« The preservation, revitalization, and strengthening of Indigenous languages and cultures are best managed by Aboriginal people and communities. »
Principle cited in Recommendation 14 of the Truth and Reconciliation Commission Report
The Truth and Reconciliation Commission (TRC), by providing a forum for the stories of residential school victims, has raised Canadian consciousness. Through their testimonies, these exceptional individuals have helped to lift the veil on years of oppression and cultural, psychological and physical abuse.
The creation of Minwashin was inspired by the recommendations made in that report, including the recommendation that the Canadian government "support the development of, or the renewal of, relationships based on the principles of mutual recognition, mutual respect and shared responsibility in a way that is sustainable, or the renewal of relationships of this type that have already been established".
Together, we asked ourselves which approach to take and one thought came to mind: We will oppose beauty to ugliness. To darkness, we will oppose light. To shame, pride. To oblivion and rejection, the fertility of our hands and minds. The Anicinabe nation would be reborn through art.
« Respect is established when you take the time to listen to each other. It is an art in itself to want to create a work of art out of ignorance. It is a fresco that requires a lot of brushstrokes, but which will remain engraved in the collective memory. »
From Culturat To Minwashin
In the 2000s, Tourisme Abitibi-Témiscamingue (TAT) benefited from mentoring with Mr. Major Kistabish, which had the effect of instilling the team with the Anicinabe vision and making it aware of the importance of integrating Anicinabe perspectives into the heart of its actions.
In 2012, a report from the World Centre of Excellence for Destinations (CED) suggests that TAT should use arts and culture to mobilise Anicinabe communities, as they are very effective ways to do so. This is how Culture AT was born. This initiative is part of a citizen's initiative to promote the Anicinabe territory through arts and culture.
In the wake of Culturat, which had as its objective to build bridges between peoples, a crying need arose to include the Anicinabe nation in decision-making on how it wished to represent itself. It was from this necessity that the need to create an independent Anicinabe body emerged.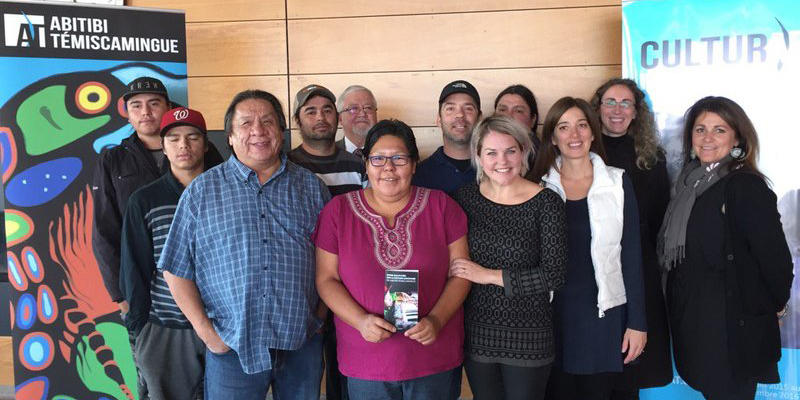 When it was created, Minwashin had a dual mandate: 1) to create links between the various Anicinabe communities and 2) to act as a vehicle for the development of Ancinabe cultural and artistic projects.
Minwashin was officially founded in 2017 with Richard Kistabish as President and Caroline Lemire as Executive Director. Thus, Minwashin inherited the indigenous component of Culturat with the support of Tourisme-Abitibi-Témiscamingue.
From 2017 to date, several projects have been carried out, bringing recognition and credibility among the different actors involved in the arts, language and culture of the Anicinabe territory. The success of these projects has already provided great opportunities for promotion, visibility and the development of several partnerships at the regional, national and international levels.